Mosaics

By Donnell Pasion
Grover Beach, California
pasion@passifloramosaics.com
www.passifloramosaics.com
Learn to make weatherproof mosaic-ready concrete forms from Styrofoam from award-winning mosaic artists and mixed media sculptors Fred & Donnell Pasion. They will guide you through discussions and demonstrations as you create your own 3-D form from start to finish. At a workshop you will learn:
1. Basic design concepts and layout.
2. How to safely use the latest hot wire tools for carving.
3. How to mix, apply and finish a durable concrete surface.
4. Curing and preparing your sculpture for mosaic.
Passiflora Mosaics is located in the town of Grover Beach, California – midway between Los Angeles and San Francisco along California's beautiful Central Coast.
Donnell's "Fat Cat" – From sculpted foam to finished mosaic.
The dimensions of my mosaic "Fat Cat" are: 24″H x 13″W x 11″D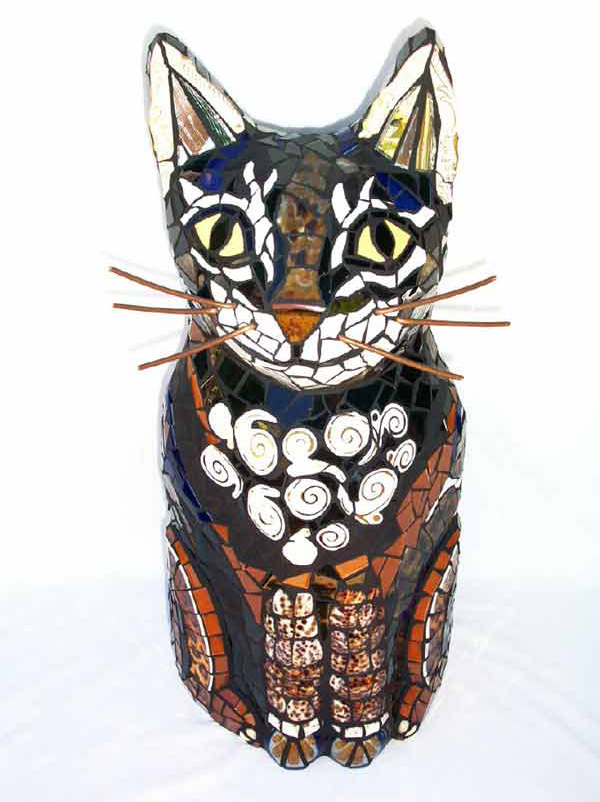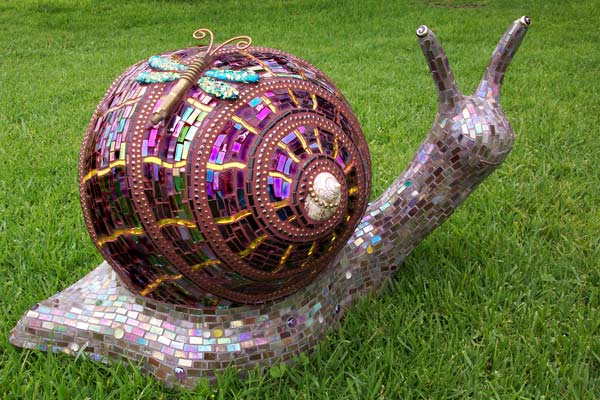 Louise The Snail is glass mosaic over concrete and polystyrene. 16″H x 24″L x 12″W. Louise was first created in the styrofoam sculpture workshop then afterwards mosaic was applied. Made by Donnell Pasion of Passiflora Mosaics.