Artist Spotlight
Katherine England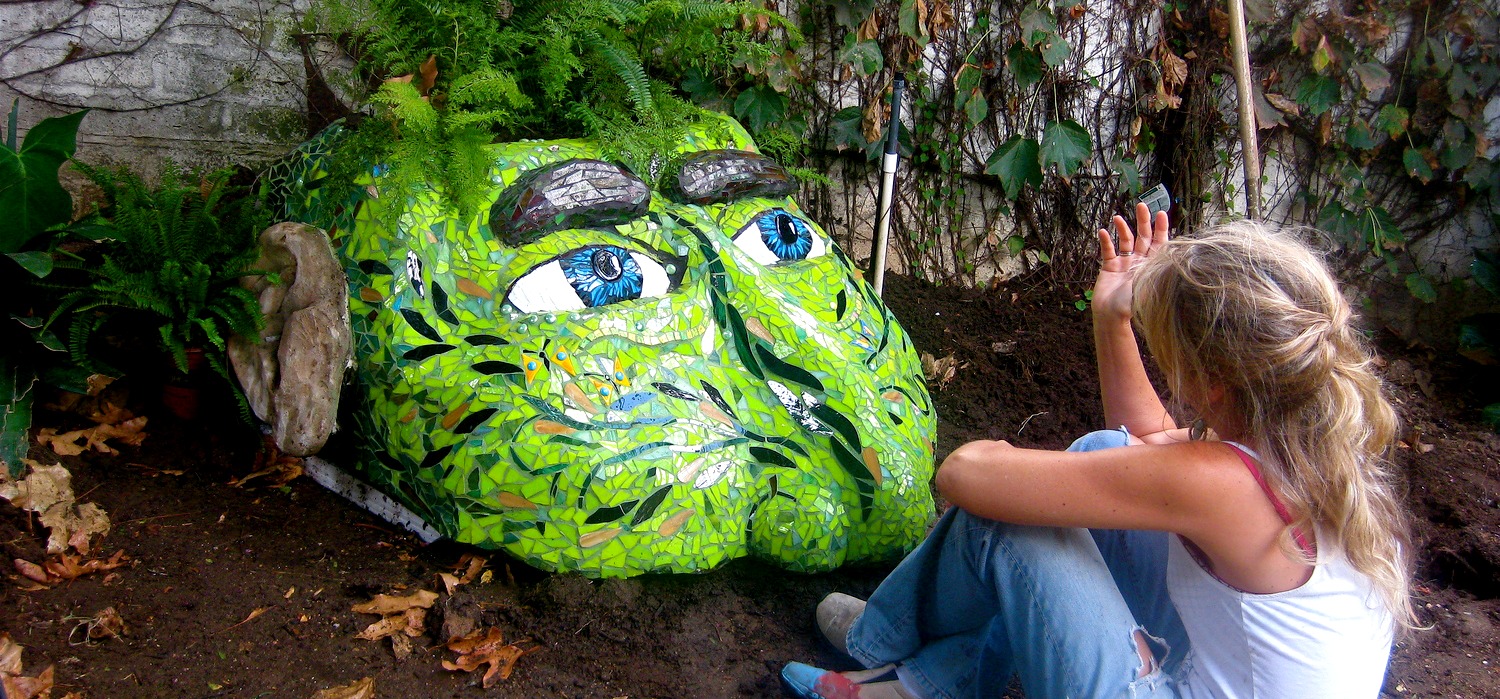 A glimpse into what fuels Katherine's creative mind and the journey she took to get where she is now as an artist. View all of her work, video tutorials and more here: 
http://www.KatherineEngland.com/
---
Did you come from an artistic family?  "My mother was a painter and a violinist and my father was a Professor of English. We did a few study abroads in London, where my artistic, spiritual awakening truly took place and I haven't been able to stop the creative surge and passion that has pushed me all these wonderful decades."
If you could sum yourself up in one word, as an artist, what would it be? "Unreasonable."
When did you first get a taste of the mosaic artform? "Probably in Russia around 1981 when I first visited and saw the icons in the churches."
---
What about the mosaic art process do you love the most? "I love the idea of reconstructing (resurrecting?) a material into something completely different. Giving it a new life and new journey."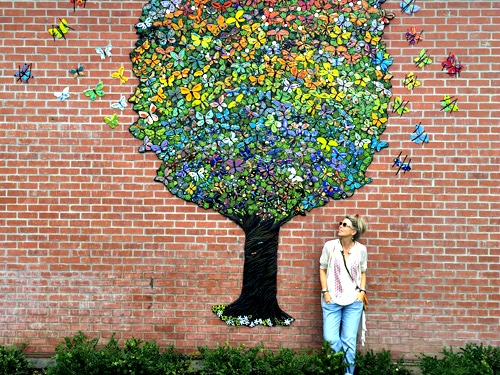 ---
Out of all of your amazing pieces, which one was your favorite to make and why? "I think the series I did after my father's death. I took quotes from Shakespeare and challenged myself to create imagery that told the story of the quote. Mixing the word and the visual was challenging and fun."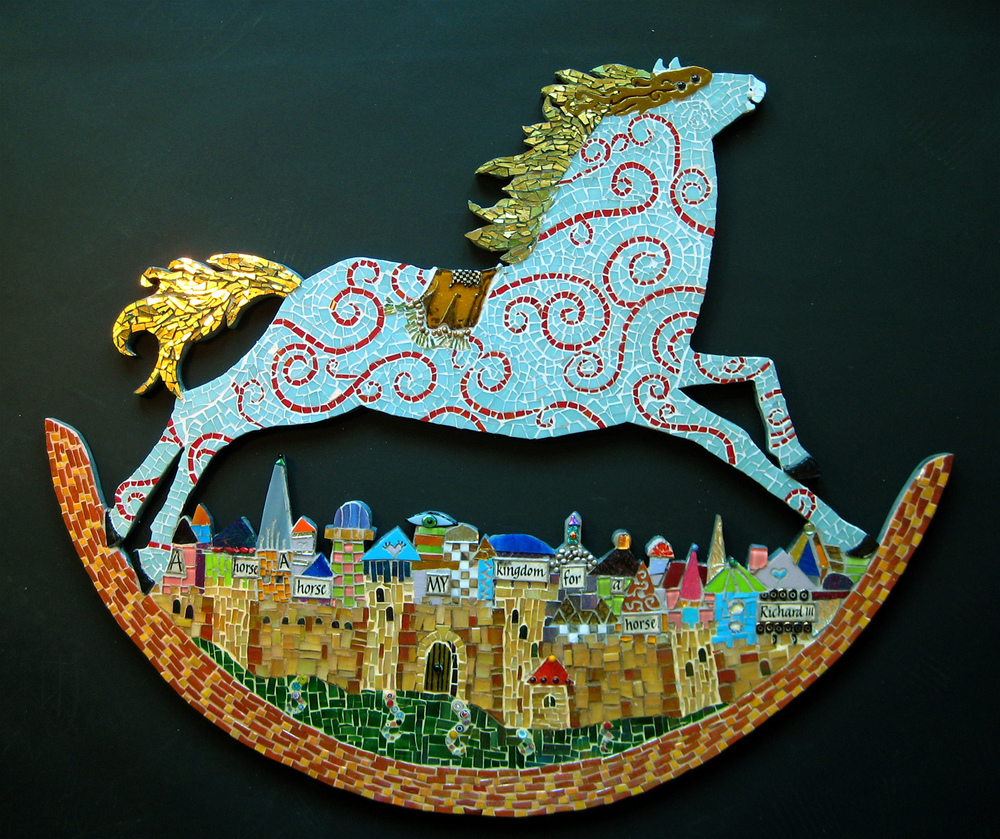 ---
One of your murals was actually designed by students? Tell us about that process.
"I have an after school program for jr. high kids. We have created 8 large public works of art. Since conception is 90% of the process we (the class) spend a lot of time discussing the clients needs, involving the habitants of the site where the mural is installed and inviting them to help us create. The students learn to listen to the needs of the client and create as a group. There is a lot of discussion, disagreement and consensus. I am simply the director but they seem to have great ideas the turn out amazing."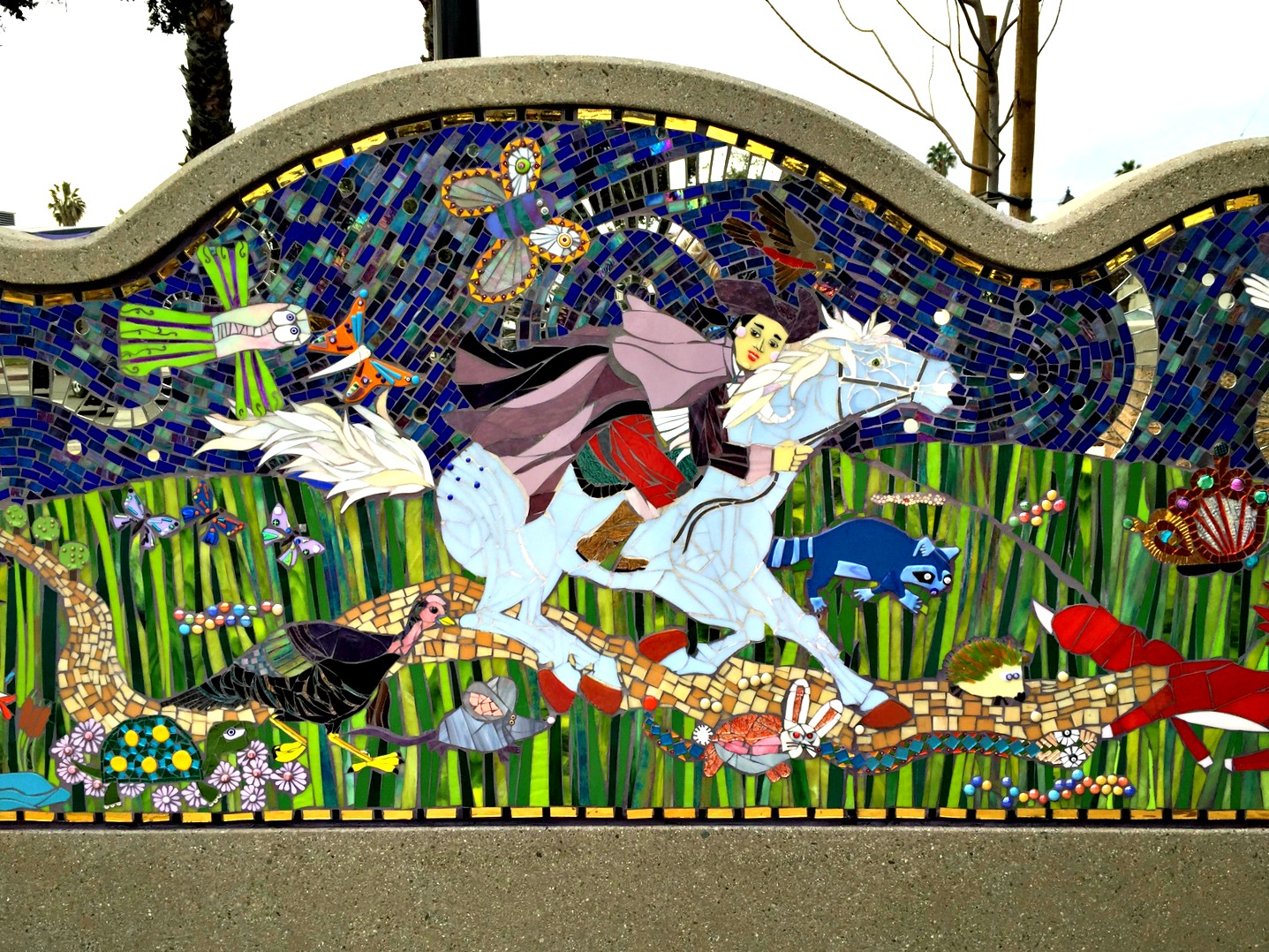 ---
In one of your previous interviews, you encourage art journaling. Can you explain what that is for people who might not know?
"I use daily art journaling not only as a form of meditation, but to get me to the most creative part of my brain, so I can be at my best when having to write proposals, design projects, write papers, etc. It helps me see things more accurately, hones my artistic skills, and gives me a moment of peace in the daily chaos. It is mostly right brain (realistic) drawing with some sketchy note taking. I have filled 16 books since I started this habit 8 years ago." 
---
Did you always use hot wire tools for your 3D mosaic sculptures or did you find out about them after you had already started?  
"It was seeing these tools that got me going on larger projects. I had to make some 4' gold rubber duckies for Kim Kardashian's candy store. (Not my proudest moment) And that's when I found the Bow Cutter. I loved finding new uses for each of the tools. I love that I can create sculptures without so much snow. I feel so lucky to have found them. The bow cutter is my favorite!!!! There is no limit to what I can create or what size."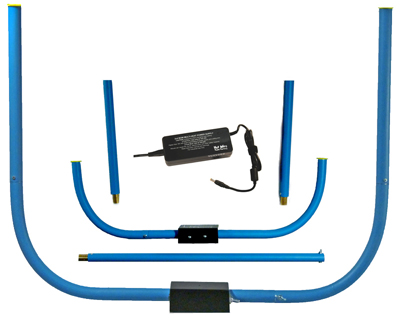 ---
You've been a teacher of the arts for many years , from theater to mosaics.  Now you've made your mosaic classes accessible anywhere, with an online video course, what can someone expect to learn by taking your online mosaic class?
"The sculpture class is probably my favorite mosaic class to teach and it is very popular. I have had students come from as far England and Australia to learn this method. It takes artists to a whole new level of creativity. I have received emails from all over the world asking me to do the online version and it has been a dream of mine for several years. Finally, I found a great director and the timing for filming worked. It took a month to film and countless hours of editing. I am so proud that someone on the other side of the world now has access to ALL the information needed to help them be able to create their own sculpture. One of the videos is dedicated just to helping the student find the materials they need no matter where they live. The good thing is everyone can get the electric carving tools online. Thank heavens for shipping!!!"
---
What is something you'd say to younger you, or to any up-and-coming artist who is trying to find their style or define who they are through an art form?
"I guess I would just say DO IT. I encourage my newer students to go ahead and copy. They can copy my style or anyone (kind of like training wheels) until they start to get their own confidence muscles. In all the great museums, you see art students copying the masters. Your own sensibilities will surface with time. The important thing is to just do it, do it, do it!!! and to give up that there is a right or wrong way. Just do it."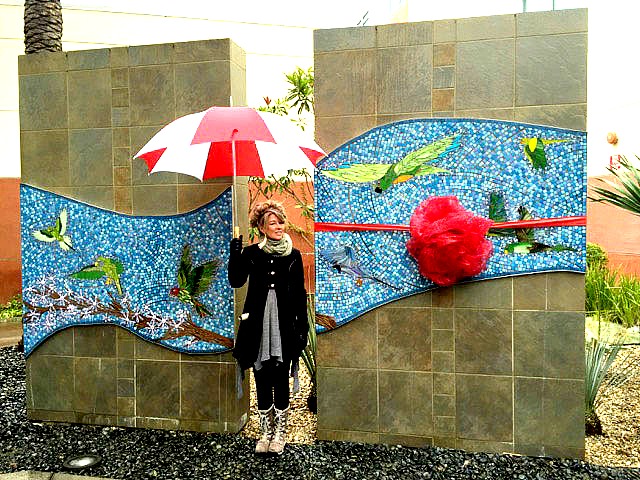 ---
Lightweight Garden Sculpture Online Course
Offered by Katherine England, featuring Hot Wire Foam Factory tools.
"I have taken a few online classes and the ones that are focused and information based are my favorites and have given me the best skills. I made this class purely for people to learn. There is little chitchat or story telling. I want people to get as much valuable information as possible; quickly and precisely. There are 15 videos in the class and each one is compact. I am very, very proud of this product."
Follow Katherine on Social Media!
Facebook: https://www.facebook.com/katherine.england.50
YouTube: https://www.youtube.com/channel/UC4VM2BYSD60Ndh89iANB2Yw
Instagram: https://www.instagram.com/Katherinesstudio/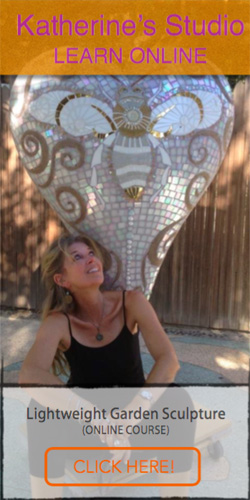 ---
Thank you, Katherine, for brightening the world with your wonderful art!