HWFF Coating Systems
Using Boost

What is Boost? The most durable and weatherproof coating available! When Boost is mixed with our Exterior Foam Coat, it forms an extremely strong and weatherproof barrier. Mix Boost with All Purpose Foam Coat for a very strong and sandable finish. If you want to make it even stronger, you can also use Mesh under the coating mixture. With Boost you can make a super durable finish that can be thinner than Foam Coat alone, so you can create super lightweight projects that stand up to abuse. Great for making super durable but lightweight boulders, walls, stage props, or anything else that needs added strength!  Sold in 8oz, 16oz, 32oz or 1 gallon containers.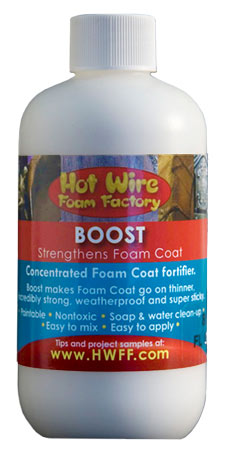 To mix and apply Boost:
NOTE: Do NOT mix larger quantities than you can apply in about 10 minutes, as the mixture will begin to set and the application will not look the same everywhere. We highly recommend making a mixture and applying it to a test piece before using it on your finished piece so you can get used to using it and have a good sense of how long it takes you to work with the finish. 
EXTREMELY STRONG: Mix with one part water (equal amounts Boost to water).
VERY STRONG: Mix with two parts water (1 part Boost,  to every two parts water).
STRONG: Mix with three parts water (1 part Boost,  to every three parts water).
Start to pour about 3 parts All Purpose or Exterior Foam Coat slowly, stirring as you mix until you have the desired thickness. (You will not weaken the coating by adding more Boost). You might want two mixtures, one thick if you have any large holes or cracks you want to fill. NOTE: This will set in about 10 min, so make sure you only mix as much as you can use in that time, including any textures you want to add before it sets!
Apply to EPS foam, first filling any large cracks or holes first with a thick mix of Coating. To coat any large areas, you can use a paintbrush or pour the mixture onto the foam and spread. You can apply the coating as thick as 3/8 inch at one time, but to make it stronger you will want to add multiple coatings and allow it to dry between applications.
Clean your tools with soap and water, Boost cannot be removed after hardening!
Allow to dry at least 30 min – maximum bond/hardness is at about 24 hours.
Add any finished effects you want! Paint works really well with this finish, but we can't say enough about how much we love the effects that you can get using Stainfast!
PHOTO or VIDEO
Still not sure if this is what you need? We have a Complete Foam System that includes all of our best selling foam coats, fusions and a complete 30 minute instructional DVD.
How do I apply Boost?
This is really easy to use and apply! Of course, you must first have decided on how you want to mix it, depending on your project goals (see list above). We recommend that you try a test application before you commit to coating your masterpiece, whatever it might be. That way you can experiment with different materials to apply texture and get a feeling for how long you have to work with the coat before it hardens.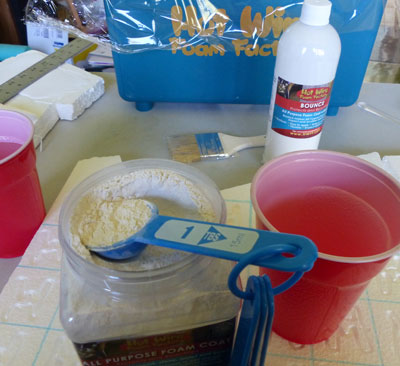 Here are the basic steps:
STEP 1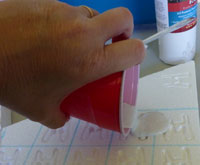 Begin your project with testing. Mix a small amount using the instructions above.
STEP 2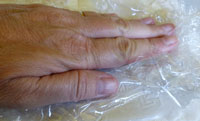 While still wet, but slightly set, you can test your texturing. You will have time to wash your brushes, containers and tools while you wait for the mixture to set up a bit. All products on this page clean up with soapy water.
Here are some examples of how to  texture:
Use plastic wrap over a thick coat and "squish" the wrap into the coating to create an interesting texture.

Use clay-working or paint-texturing tools to create textures like wood grain, brick, add writing or other fine details – pretty much whatever you can imagine! 

Sprinkle some Grit on the surface to create a rock-like texture. Great for boulders, brick, tombstones, terrain and more!

Sprinkle or press any shapes or objects you want on the surface to create unique textures.
STEP 3
Didn't get what you wanted? Try again, making the mixture thicker or thinner, texturing sooner or later.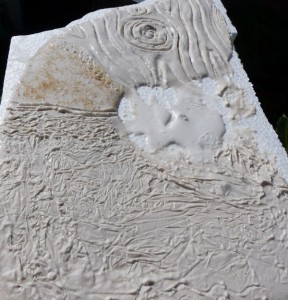 STEP 4
Now you can mix the full amount you need, just remember the time it takes to set and how long it takes you to apply and add your finishing textures. Plan on coating one side at a time, and turning the object around to coat another side after this is fully dried. Do NOT mix larger quantities than you can apply in about 10 minutes, as the mixture will begin to set and the application will not look the same everywhere. Apply quickly and evenly for best results. Depending on the mixture and surface, you might pour it from your container directly on the project and smooth with a brush or other tool, or paint it on with a brush.
STEP 5
Now, add the finishing touches to your project! Use a sealant, if desired, and then use house or acrylic paint or Stainfast. You can use any acrylic paint; if color fastness is needed, make sure you use paint that has high ratings for color fastness. Exterior house paints are a good product for many of your projects. For fine art projects you might want to use a coating over the paint to protect from light or water and cleaning damages.
Some examples of projects using All Purpose Foam Coat in our Gallery: