Celtic Foam Tombstone
By Darien Bogart of The Backyard Studio/Asylum
www.backyardstudioasylum.com
Darien Bogart, one of our Earth Day contest winners, utilized materials left over from a construction site to create an impressive Halloween display prop. Here's what he had to tell us about his project:
Over the last few years a friend of mine has commissioned me to build displays for his Annual Halloween Extravaganza. In fact, this is how I discovered Hot Wire Foam Factory. I was searching the internet on how to best build all the displays, and hot wire foam had the best solution to my designs.  So when I had an opportunity to see how they all worked at the International Sculpture Show in Loveland, Colorado, I  jumped at it and purchased one of their Starter Kits and a Scroll Table.
I dove right in and began building a wall panel system for the Halloween backdrop and several other props. Using all the tools in a variety of carving techniques and coating each finished piece with Foam Coat.
This year we are concentrating on enlarging the cemetery section and so I have begun fabricating some large tombstones and sculptures. I visited a nearby construction site and did a little dumpster diving to find a variety of insulation foam and leftover wood scraps. All this 'trash' would have been headed to the landfill if I hadn't salvaged it for my project.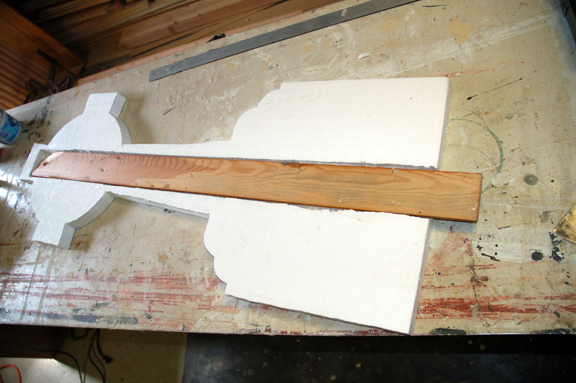 Using a Sculpting Tool, I began carving out a section for a wood support that would be between two layers of 1.5 inch thick foam sheet. After laminating the foam together, I drew out my design and began carving the outline with my 8″ Pro Hot Knife. The base was built with reclaimed wood filled with layers of foam cut with the hot knife. I attached the Celtic cross to the base using the interior wood support.
Long Engraving Tool
. I had also made a sand cast of an old plastic skull for the center with some spray foam. After several layers of paint, some joint compound and polyurethane, it's finished, ready for Halloween.