"Stone" Frame Tutorial
Here is a very elegant yet inexpensive method for making original frames for photos or other flat artwork. I received these matted photos of waterfalls and ferns from a friend who is a professional photographer.
1) Measure the outside of the frame and have glass cut at the local framing or window shop. The frame shop will have glare-free glass.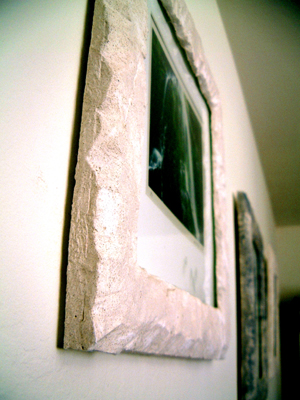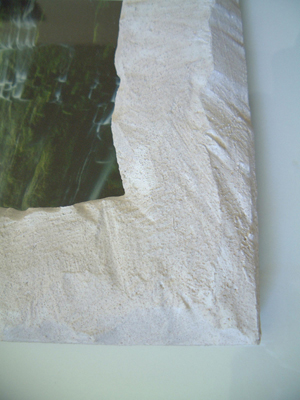 2) Mount the glass to the matted photos using Swiss Clips, as seen in the lower left image. Swiss Clips are inexpensive and come with simple instructions.
3) Place the glass onto the foam which you are going to use for the frame and draw the outline of the glass onto the foam. Cut the outside dimension of the foam a little larger than the desired dimensions, which must be at least half an inch beyond the outside the outline of the glass.
4) Place the glass back onto the foam frame you just cut out. Glue strips of foam onto the outside protruding edges of the foam frame you just cut out getting as close to the glass as possible. The foam should be fairly even in thickness, but can protrude out beyond the foam frame that you are gluing to. Make all the joints as tight as possible. Now, remove the glass which is nestled in the back of the foam nest you have built.
5) This is the creative part. Using the Hot Knife, cut an opening in the foam frame to view the picture. Cut your outside design using the Hot Knife, Sculpting Tool, or Freehand Router. Experiment with different cutting strokes and patterns until you get the affect you like. If you prefer a geometric shape you can use the Scroll Table or Table Router which is part of the 3D Scroll Kit. I made the outside edge fairly square, but the only limit to the shape or texture frame is your imagination.
6) I used Foam Coat to get the rock texture. I used two fairly light acrylic paint washes which matched some of the colors in the photographs.