Z Scale Model Railroad Layout
By Frederick Ladd
zeagle99@msn.com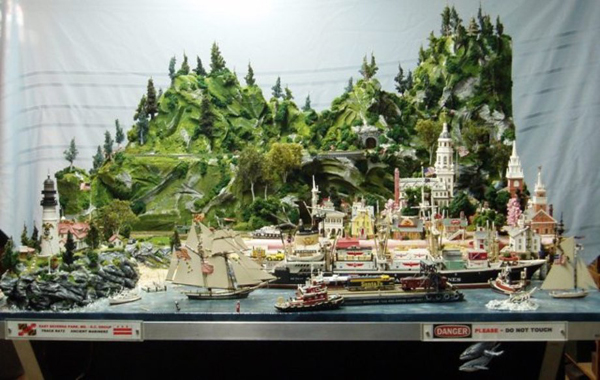 This is the East Coast side of the Z-Bend module. The mountains block the view of the other West side. Here is represented Portland Head Lighthouse and a down east lobster boat, The Pride of Baltimore – a sailing clipper – a tug/barge train ferry, a transition container ship, Old North Church, even a Nantucket Sleigh ride and an America's Cup yacht . All the mountains and seashore are made of foam. The modules are made of light materials so they can be transported to train shows and hooked up together for long trains.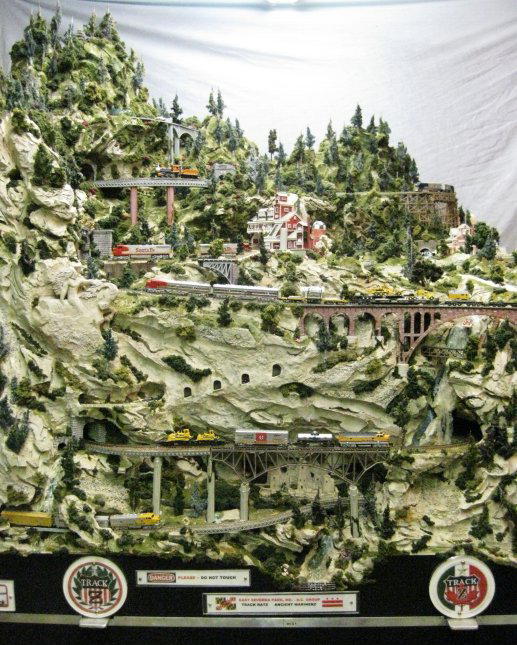 This is a standard 3'x3′ Z-Bend model train module. Z scale is 1:220 and is one of the smallest scales in model railroading. This side represents several sites in the west, from the carving of Crazy Horse in South Dakota, to Mesa Verde, and the 4 arches in the center that is a road tunnel in the side of the mountain to Multnomouth Falls with rafters going over the edge. The main line double tracks go behind a waterfall and under the red building. This module is made to hook up with other Z-Bend modules so a very large layout can be made at train shows. What is unique about this layout is the vertical development, allowing several trains to run independent of connecting units. Another unusual feature is the double-different- sided train on the Upper Level (yellow Bumblebee) going in and out of tunnels that look like two trains.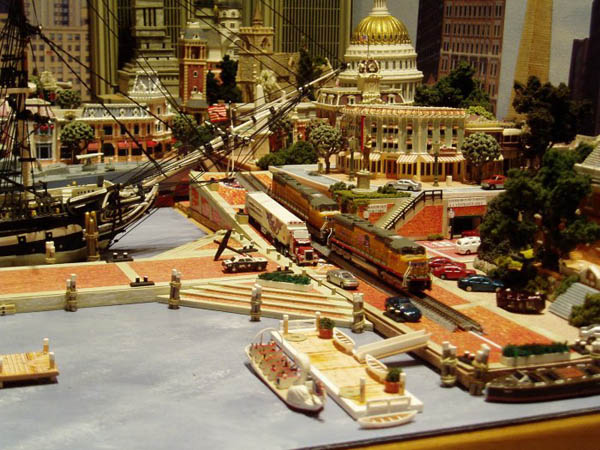 This picture is another section of the layout that represents several cities combined. The Boston Custom House and swan boats – Seattle's Space Needle, Baltimore's Inner Harbor, the Constitution and others, with the trains going downtown.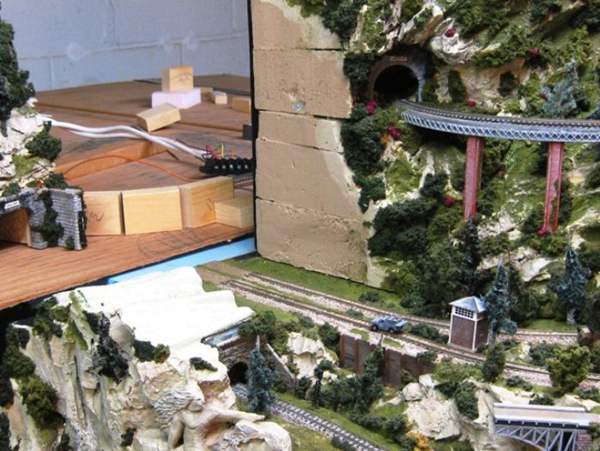 This picture shows the top of the tunnel removed to gain access to the track or any derailed train. Also the different levels of foam to make the mountains.
This picture shows Crazy Horse – still under construction – and the tunnels are in place. The top of the tunnel can be removed to gain access to derailed trains or track cleaning. All the cliffs and rock work is made of foam and detailed with the Hot Wire Foam Factory tools.