Massive Model Railroad Display
by Marc Schuman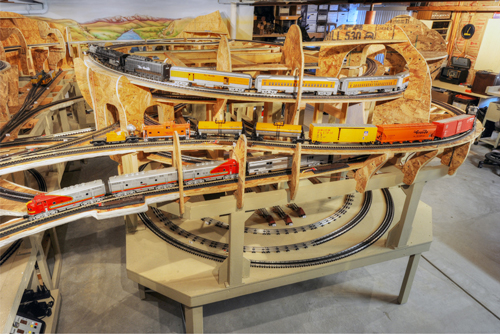 The L-shaped O-guage layout is built on two primary levels–the lowest level, two feet off the floor, is flat and features staging areas and a "folded dog bone" through-track that travels the entire lower level perimeter.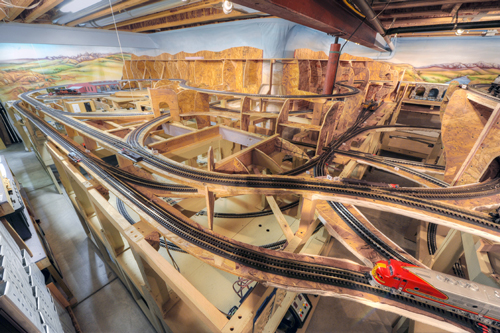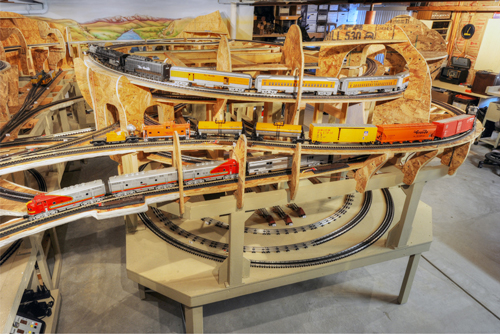 There is a transition incline track that connects the flat lower level to the mountainous upper level, the later of which begins four feet off the floor and goes as high as seven feet off the floor at the highest point.  The upper level features two independent through-tracks.  One side of the upper layout features a mountain with several tunnels and two independent "helix" incline tracks hidden within the mountain.
The other side of the upper layout features a town site and a roundhouse with a turntable large enough to move a 32″ o-gauge steam engine.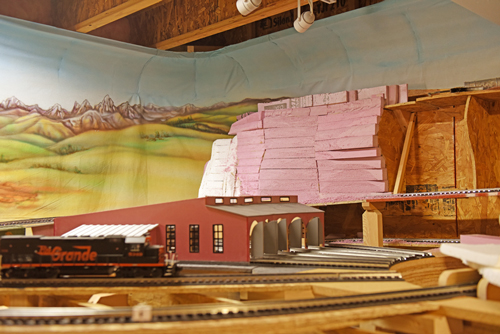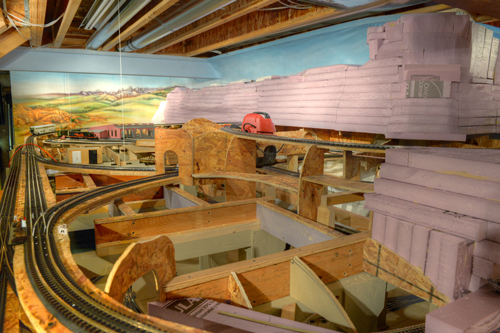 The entire layout is built from 2×4 dimension lumber and standard 4×8 sheets of OSB residential construction sheathing.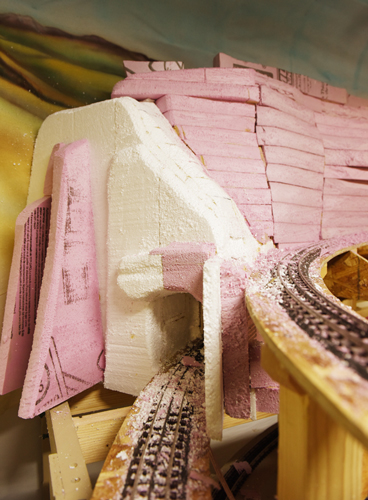 Once the bench work, track work, all wiring, and the artistic backdrop were completed, work began on the structural support for the extruded Styrofoam mountains. This structural support consists of "ribs" made from the same construction sheathing as was used widely on the rest of the layout. These ribs represent "slices" of the cross section of the mountains being built. All structural supporting ribs for the mountains were completed before starting the Styrofoam work.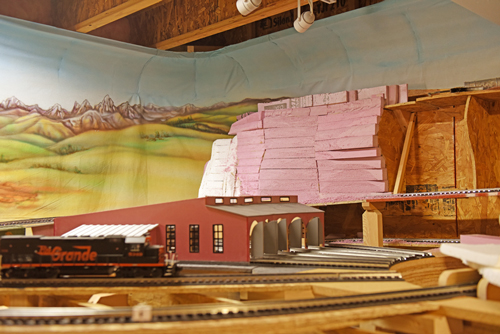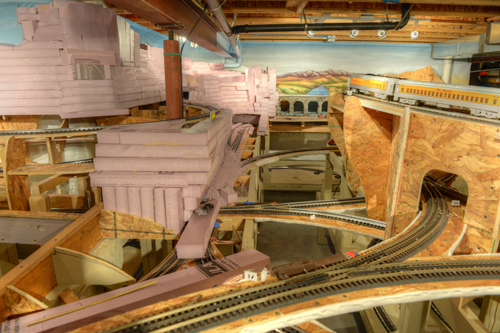 To the OSB ribs, 3 1/2″ wide by 2″ thick by cut-to-length sections of Styrofoam are glued with Liquid Nails adhesive. (Note from Hot Wire Foam Factory: Many glues will melt foam over time. Many sign-makers reported that their lettering fell off their backdrops after 12-18 months, and they found a cavity where they had applied the glue. Also, you can cut through Hot Wire Foam Factory's Foam Fusion and Styrogoo after it has dried. There are no other permanent foam-safe glues that allow this.) Once the glue dried, shaping of the Styrofoam mountain contours was accomplished with a Stanley Shure Form wood rasp.
Stanley Shure form tools do not allow for the creation of finer details in the topography of the Stryrofoam mountains, (and create quite a mess).  The Hot Wire Foam Factory tools will allow finer details depicting geological strata and craggy rocks to be created.
---
Recommended items for this project: