Garden Model Train Layout
By Warner B. Swarner, M.D.
wbswarner@aol.com
Portland, Oregon
We live in a suburb of Portland, Oregon and my latest project is a G gauge outdoor layout that I call the Bearspaw Crossing. It is a display layout with vertical scenery to about 7 feet high. By display, I mean it is for running and not switching. It has three continuous loops with a few sidings. It is in the courtyard of our front yard and is being built for the neighborhood kids, grand kids, church group and the hundreds of holiday visitors that come by our house. The layers of foam insulation are glued together with weather proof poly urethane adhesive and then covered with vinyl sanded grout. That is then covered with high grade latex, and than more rock detail is added with castings and finished out with more latex, grout and weathering. If all goes as planned, I will be able to plant ground cover in pockets cut into the shell. Green stuff like moss and ground covers grow great here in Oregon. My former layout was featured on the covers of Garden Railway and Outdoor Railroader magazines. Presently, we have a large outdoor garden railway under construction with three ponds and waterfalls, but that is a different story.
Last year I also built a 44 foot long suspended shelf railroad in G gauge for the youth department at our church (Abundant Life Community Church, www.coolchurch.com) using your tools and covering the foam with sculptamold. That is also a different story and I will send you some photos of that project another time. We really enjoy sharing our hobby and our faith with all that are interested. With this note I will begin to send you a series of photos of the Bearspaw Crossing RR under construction to let you see how I develop the topography as I go using layers of foam insulation and other materials, shaping the mountains and details with Hot Wire Foam Factory tools. This project is far from finished but we hope to have trains running before fall this year.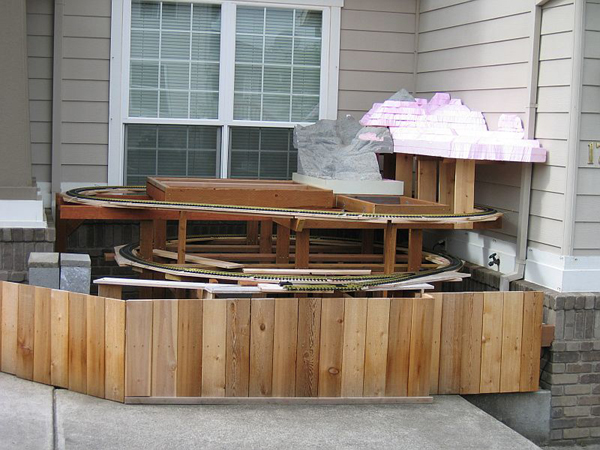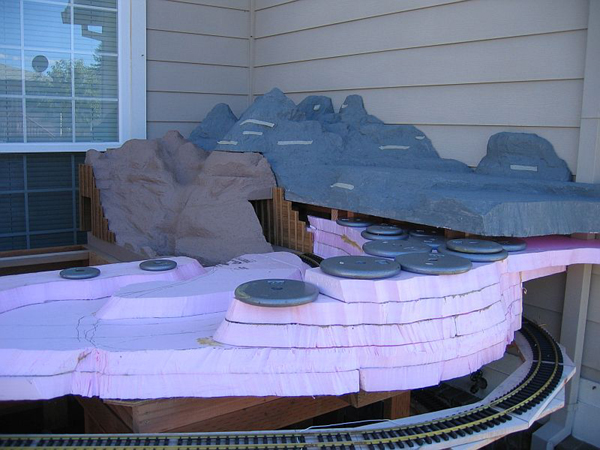 Hot Wire folks, I want to thank you for your tools. I am a real fan. I have built several model railroads using your tools to sculpt mountains from foam. I encourage everyone to try using your incredibly simple but easy to manipulate cutting tools. The first foam I ever cut was with a hack saw blade. Twenty years later the pink and blue foam dust still lingers in a cloud above Boring, Oregon. Yes, that is the name of the town I lived in for many years. A few years into my foam experience I graduated from HO to G gauge. My layouts and scenery got bigger. With the help of one of my ingenious friends, we rigged a hot resistance wire in my garage and used a Lionel transformer to supply the juice to cut foam. That worked great, but keeping the tension for a straight cut and constantly breaking the wire meant numerous stops and starts and no accuracy or detail. I obtained a hot blade from a hardware outlet and things got more detailed but the blade was only 1-1/2 inches and at an angle would barely cut 1″ foam sheets.
Finally you invented the Hot Wire tools and I was one of your first customers. When that tool finally gave out I searched the internet and found you had developed an entire range of tools. I have now ordered my second set of the latest incarnation of Hot Wire foam cutting tools from your factory. I will use these until you invent something better. Your company has been responsive and very helpful, even over the phone, whenever I have had questions or problems with old versions of your tools. I will remain a loyal customer as long as I keep building layouts, scenery or structures.
Thanks for posting my early photos of the Bearspaw Crossing demonstration layout that I am building using your tools and your Foam Coat. It is really incredible material to work with. I am attaching a couple of update photos of the upper section which is still only half done, but worth comparing to the early phase photos. As you can see the layout is becoming popular with the neighborhood resident cats, in addition to the intended viewing public. Both Snickers and Tupper seem to agree that your foam coat product is just the right surface for exterior model railroad work. They completely approve of its comfort and durable texture, especially tested when they try to sharpen their claws on it. One of them likes it so much that he crawled through a tunnel of wet material to exit from the other end, only to improve the surface texture.
The color you see is mostly base tinted using dry mix cement pigment available at local home hardware store. The buildings at this stage are not in permanent location, just there to test fit for perspective. So far it resists damage from these fierce beasts. It takes about 12 hours to dry when placed in layers thicker than you recommend (up to 1 inch), but still sets up hard and solid. The surface can still be worked at 4 to 6 hours, but when it sets, it sets. It is hard as concrete stone. You can only drill through it with masonry or carbide bits. We will see how it holds up to the winters in Oregon. I have a lot more left to do, but the progress is great fun with your help. Thanks again for your great products and your support.