Custom Halloween Display Base
By Roger Beauregard of Creative Villages
CreativeVillages@yahoo.com
rjbeauregard@comcast.net

If anyone has any questions regarding anything from this display or any other display questions, please feel free to email me, I will be happy to answer your questions the best that I can. The only thing that I ask is in the subject matter of the email please put "Display Question, " as I will not open the email unless this is in the subject line.
Stage 1: The following pictures are from a display that I built for a customer from Connecticut; he had taken a business card and called from a store in Salem, MA, where there was one of my displays. It was a Halloween display and this customer was very much into Halloween. He was telling me how much he liked the display and wanted me to build one for him. After he told me what pieces he had and explained to me what he wanted for his village, I proceeded to build his display. The biggest problem was space, which seems to be what we all have to deal with. (Ten people could have the same ten pieces but because of the room they have you will get ten different designs.) I designed the layout using templates that are the size of the bases of each building so I had a better idea of space. I got this information from the D56 web site. The site tells you the base size of each piece which is a big help. Some of the pieces were Lemax, so I had the customer give me the dimensions. The building of the display went well and when I was finished I called the customer and he came to pick it up.
It was a display that was 4 ft. by 6 ft. that was in three sections with mountains backing the display. There were seven pieces all together. The only thing I had to do was make this display like a puzzle. I kept it all together so the customer could see it together and then we took it apart explaining to him each piece and how to reassemble it. I made it so pieces overlapped each other so when it was put back together it would look fine. He called me after he reassembled it at his home and said everything looked fine.
Stage 2:
Halloween season rolled around and I got a call from the same customer saying he had purchased more pieces and asking if I could make an extension for him. This time he was more specific as to what he wanted, which was more levels and sort of a tunnel for one of the pieces. There was a display that I had made for myself that was on the HWFF web site and he wanted a similar looking tunnel. The whole process starts again but this time the space is even more limited hence the higher levels. This second section is 4 ft. by 3 ft. half the size of the first section. Because of what the customer wanted this time, I was able to put in a lot more detail in the stone work of the tunnel opening. I really enjoy doing stone work and making it look like it is hundreds of years old. I like the gothic style, it just intrigues me so I try to create it the best I can. I hope you enjoy my displays!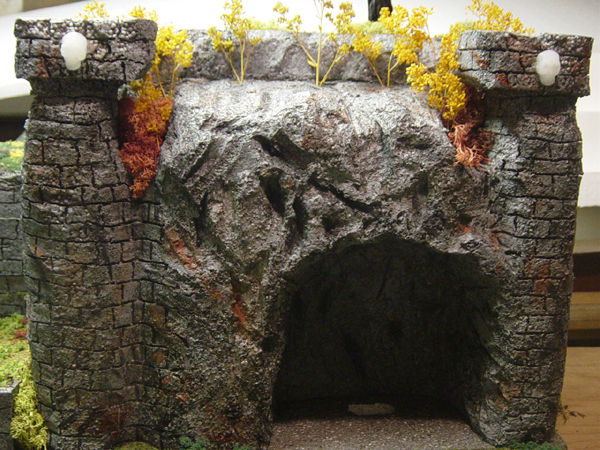 About
Roger J Beauregard / Creative Villages
Back in 1995 my wife came home with a few village buildings. I asked her, "What are we going to do with these?" She set them up on the dining room buffet for the holidays. The next year, after much bickering, it became my village. I really became hooked, especially on building dioramas.
I was so hooked it became a craving. I needed more! But the more I created the bigger the mess I made. That's when I discovered Hot Wire Foam Factory. They were heaven sent.
I was amazed at how easy the tools were to use. I started with the Hot Knife and Sculpting Tool. I was having a blast creating different realistic looks for my villages with incredible detail. I used the Hot Knife to do the stone and brick work in the walls and to make cobblestone roads. The Variable-Heat Power Station allowed me to control the heat on the blade which made a big difference.
The tool that I now use most is the Freehand Router. It's very versatile, you can bend the wires to cut a almost any shape in the foam. All it takes is your imagination, and with practice the tools will help you create whatever look you want.
As time went on my display building was recognized. I have done village displays in several D56 collectible stores in the New England area. Once my work was seen customers wanted me to do their displays in their homes. At one of the store I held classes on building displays and helped people with problems they were having with hiding wires, making walls or stairways or anything else they wanted to do. I really enjoyed helping people out because I know what It was like when I first started out.
If you have any questions or would like a quote on having me create a custom diorama for your village, don't hesitate to email me.