Vignette in Glass
By Roger Beauregard of Creative Villages
creativevillages@yahoo.com

This was a fun little display to make. Actually my wife and I were out shopping at Christmas Tree shop and we came across these large glass bowls I guess you would call them. She said, "You know, you could make a nice little display in these." So we bought two of them. I wanted to make a Halloween display, but wanted it to be a little different.
I started to look through all my Halloween accessories (although the bowl is big enough for a smaller building) and that's when I came across these two Hallmark ornaments from the "Corpse Bride" series. I bought them a few years ago and knew there would be a time that they would fit in a Halloween display of some sort.
If anyone has any questions please feel free to email me at creativevillages@yahoo.com – I will try to answer your questions as soon as I can.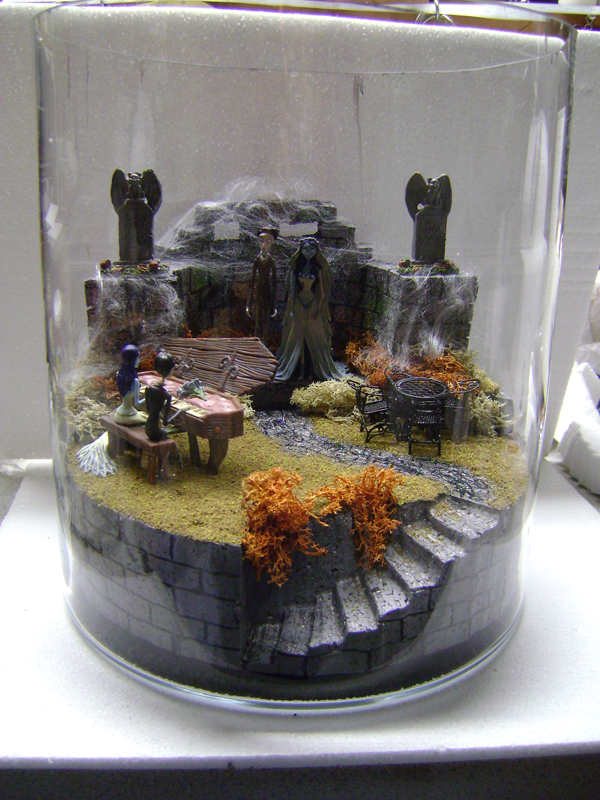 What you see is a bowl that is about 12 inches in diameter and 12 inches deep. I flipped the glass upside down and traced the outside edge of it on a 2 inch thick piece of EPS foam and cut it out with the Scroll Table. Because I traced the outside diameter, I had to cut it ¼ inch smaller so that it would fit on the inside. The Scroll Table allowed me to have a vertical cut so that it would slide in the glass and look flush inside. When I slid it to the bottom I realized that the bottom was not flat. It had a slightly raised center and the foam would not lay flat. So if you look at the picture above, you can see a black edge on the bottom – those are small black stones that I got at a craft store. I poured them on the outer edge to level the bottom off and then the foam sat nice and flat.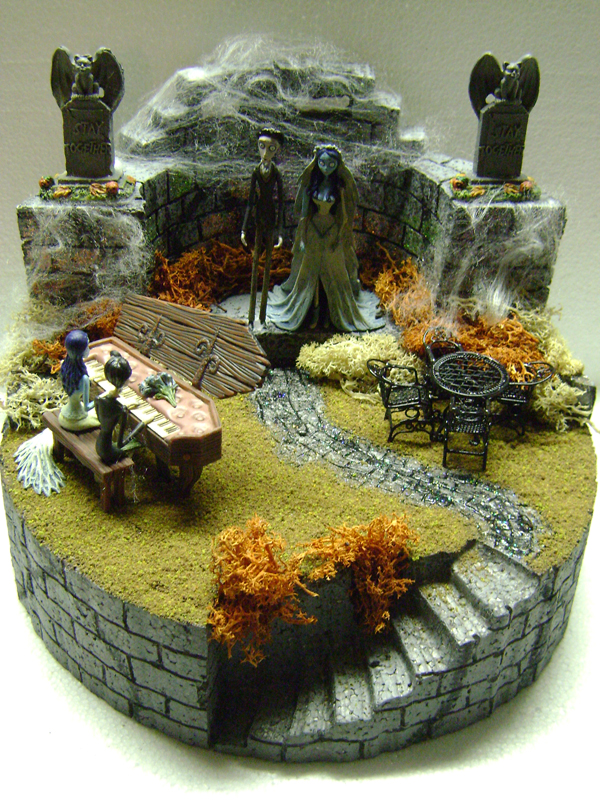 The rest of the display is just sculpting the foam, cutting out the stairs and the stone work on the back wall and around the edges of the vignette. I used a black ink wash to coat the foam, then I used acrylic paint to get the look I wanted. The ground cover is from Woodland Scenics.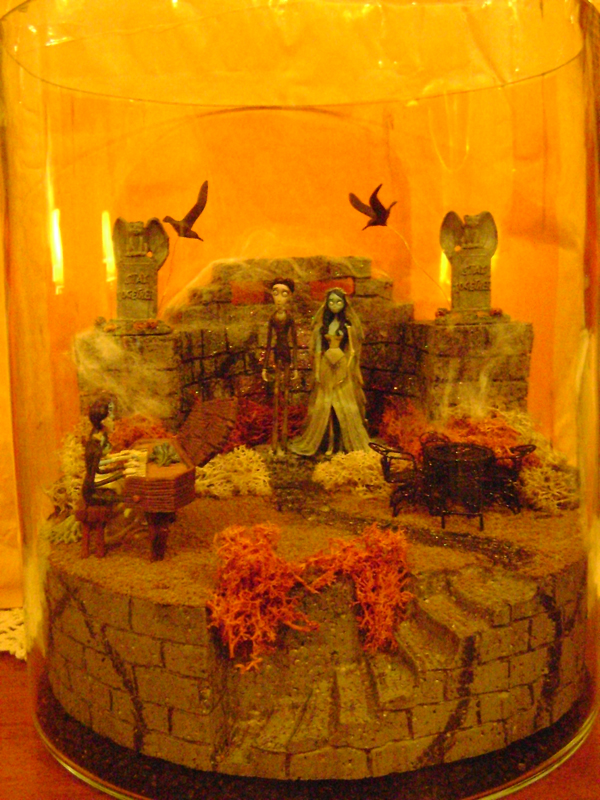 To give a gloomier look I put a piece of orange cellophane on the back side. It clung to the glass so I just had to put it in place. If anyone has had luck in drilling holes in glass please give me some tips.