Special Commendation for Rita & Carl Carter
Rita and Carl Carter were recently recognized at a Department 56 Open House at The Golden Goose in Occuquan, Virginia and we'd like to recognize them as well! They have been enthusiastic users of Hot Wire Foam Factory tools many, many years and we appreciate all that they have done to show others how easy it is to use foam and HWFF tools to create unique displays for D56 village pieces.
At the Open House event, they were presented with a brand new HWFF Tool Kit and two sweatshirts with the HWFF logo on them. Cathy Kramer of Department 56 also presented them with a Certificate of Recognition signed by the entire Department 56 design staff and a letter of appreciation from Melinda Seegers, Ms. Lit Town. They also received a limited edition sculpture of themselves!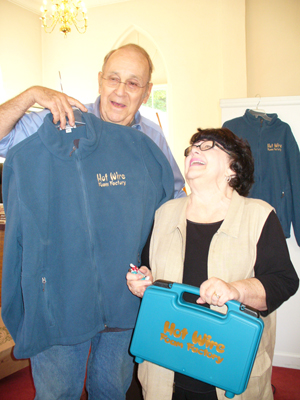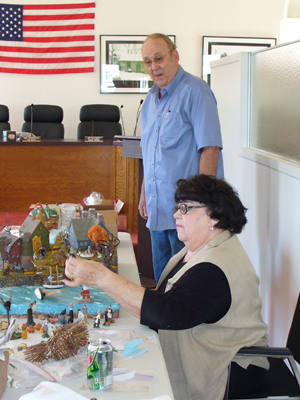 Below is an article about the Carters written by LaVerne of The Golden Goose:
Rita and Carl Carter have been long time collectors of Department 56 and customers of The Golden Goose. We first began to recognize a bit of their talent in 1995 when they came into the shop to show us a small Halloween display they had created. We were very impressed and asked if they would be willing to help with our shop displays. Carl was about to retire from a career in the Federal Government and they accepted, little did we know then how much talent they had. The wonderful poem says "only God can make a tree"…wrong…Rita can make one too! We have challenged them time and time again. I remember when New England Village introduced the Cranberry House and I called Rita and asked if they could make a Cranberry Bog for our display; sure enough in less than a week through the door they came with the Cranberry Bog. There were the North Pole Winter Olympics, the Christmas in the City Zoo and who else would dress little skeletons for a Halloween display. Their display ideas were not only clever but such fun. Then we found the Hot Wires and Rita and Carl were off and running – then we needed oceans, rivers, streams and lakes and waterfalls in our shop displays – yet again Rita and Carl without great fanfare, came up with their wax water technique, which we believe is the most realistic looking water display technique anywhere. Our displays were all cobble stone, brick and beautiful mountains. Dept 56 mills were sitting beside beautiful mill ponds; Alpine was complete with the Alps and waterfalls; New England Village was sitting alongside the Atlantic Ocean – customers began asking how they could buy our displays – we couldn't sell our displays, but we again asked Rita and Carl if they would be willing to teach a few classes for these customers. Well, 10 years later teaching two and three classes a week and extensive classes on weekends – customers were still signing up.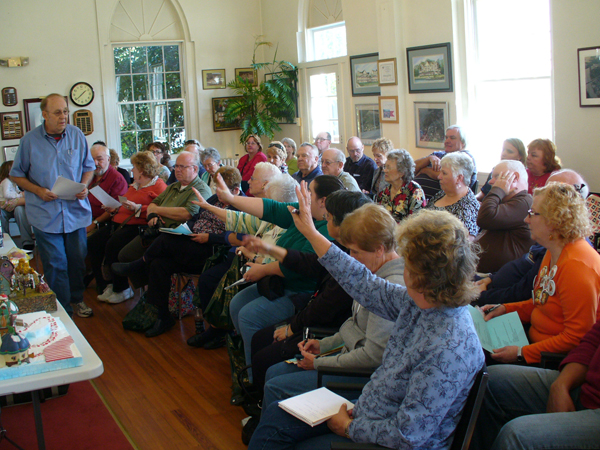 Word began to spread of their talents. D56 clubs were asking Rita and Carl to speak and demonstrate – first local clubs and then California, Texas, New England – all over the USA. They chose to stay mostly on the East Coast, but what an impact they made. Collectors began to expand their vision of displays beyond using house boxes and batting. Rita and Carl explained it was okay to inject some non-D56 items in your display – just for the fun of it. They put forward the thought that displays should be fun and every time you looked at it you should see something you didn't see before. After every class or presentation they would freely give out their phone number just in case a collector might have a problem when creating their own displays. One would think this was counter to D56 sales, but providing such a cheerful, clever, relatively easy way to display only increased the collectors' love of the villages.
Rita and Carl were invited to speak at every D56 Gathering on the East Coast – often the venue had to be moved to a larger space to accommodate the number of collectors who wished to hear them speak. They created the displays that the Golden Goose entered in the Dealer Display Contests and without exception took First place each and every time – to name a few – PA 5600, Greenville, Atlanta. Once a dealer, after seeing Rita and Carl set up their entry just packed up their display and chose not to compete. Carl and Rita's expertise was recognized by the Bachman's Minneapolis Gathering where they were asked to be among the judges of their display contest.
It's one thing to be very talented, but what Rita and Carl have is the ability to share how their display techniques were accomplished. To this end Carl wrote a series of how-to books titled "The Little Landscaper" which from the beginning enjoyed brisk sales. They had no fear that they would lose their notoriety by sharing the "how-tos." They would spend whatever time it took to explain, demonstrate and talk a collector through a rough spot. Rita and Carl never lost sight of the fact that the villages are a toy, a hobby and a source of job and that's exactly how they approached their classes and lectures. As a matter of fact one student commented that their class was better than a therapy session.
They have made a lasting impact on how to display our beloved villages. We all owe them a debt of gratitude for their willingness to develop, share and teach their techniques. With a piece of Styrofoam, a Hot Wire tool and Rita and Carl's techniques, collectors are creating their own professional village displays, as well as wonderful family memories.