Spotlight On: Craig Sears
Craig Sears, a children's minister in Arizona and frequently works with foam for various ministry projects, from puppets to stage backdrops. He was kind enough to answer some of our questions, and this will be the first in a line of interviews with artists who use foam as a medium of expression.
Hot Wire Foam Factory: Tell us a little bit about yourself.
Craig Sears: I have always been creative. Legos were my favorite toy as a youth. For my twelfth birthday I got a set of oil paints, and for four years I took a lesson every Saturday morning. I have continued to paint off and on s
ince then, and the subject of my paintings is mostly places I have visited. I have also dabbled in pottery, acrylics, stained glass, puppets, welding, and just making gadgets.
I came to know the Lord late in life, at 29 years old, and it was not until that time that I understood why I am so creative. God was preparing me to serve Him. He has given me these skills, so I gladly thank Him for them. I just pray that He will continue to bless me with creativity.
I also love to explore God's creation with my wife. I have traveled around the world. I always stop a conversation when people find out that I met my wife in Antarctica.
HWFF: What led you to start working with foam?
CS: I was making puppets out of Polyfoam, and wanted to learn more about different puppet building techniques. I went to a local puppet theater to talk to their builder. Their puppets were constructed out of Styrofoam, and covered with a hard skin. Then, the Styrofoam was removed leaving just the skin behind. That is when I started to experiment with Styrofoam.
HWFF: Tell us about the dinosaur puppet. How did you make it?
CS: It was my first project. It is a dinosaur skeleton puppet made for an archaeology-themed Vacation Bible School, called "Digging Up God's Truth." The VBS director wanted a puppet that could be unearthed and come to life. So, Trike was made.
He was made out of Styrofoam, but was covered with paper mache. The Styrofoam was then dissolved with acetone. I prefer not to do this, as the fumes are not pleasant. His controls are also located on a rod coming out the bottom and he stands about four feet tall.
HWFF: How did you find out about Hot Wire Foam Factory?
CS: I was using a razor blade to carve my puppets, and that method was messy. It was also costly, because the blades would dull out quickly. I knew hot knives existed, so I did a Google search, and I found the Hot Wire Foam Factory.
HWFF: Why did you start using our tools?
CS: They are cleaner than a razor blade, are more professional looking, and for the price, you get a lot. Ultimately, it was the very kind person on the phone that sold me on the Hot Knife, as she spent almost 15 minutes assisting me in the use and selection of the knives. She was very knowledgeable. I love a company that puts "service" back in "customer service." Thank you Laura!
HWFF: What tools do you use on a regular basis and why?
CS: I have the #K47 – Pro Model 4-In-1 Kit, and I have used all the tools. My favorite is the Sculpting Tool because it meets most of my needs. It is fast to warm up, and cuts quickly. I would like to see a two to three inch knife one day…
(Update: There is now a 3″ Hot Knife!)
HWFF: Why do you use foam as your base for projects, instead of paper mache or another medium?
CS: I will carve the puppet out of foam, and then cover the foam with a coating to give it strength. Foam is one of the best mediums for this style of puppet. It is light and relatively easy to work.
HWFF: Any other exciting projects coming up in the future?
CS: I am always working on something in my studio, and I am continually finding new uses for my tools.
HWFF: Do you have a tip you'd like to share with our subscribers?
CS: First, plan your project. Be patient. Sketching is helpful. Be patient. Know your budget. Getting halfway through your project and finding you have no money to finish is not fun. Oh, and did I mention, be patient.
When you work with hot knives, patience is the key. Plan your cuts and take your time. It is very easy to make a mistake if you rush the work. There is nothing more frustrating than having you project almost finished, and then you make a mistake.
HWFF: The penguin in the photo, can you tell us about him? What's his name?
CS: The penguin is James Maxwell. He is a super-secret secret agent, but if he told you that he would have to kill you. He catches super-secret bad guys with super-secret weapons, just ask him. He also like sardines, shaken not stirred.
He is carved out of Styrofoam, and covered with Foam Coat. The Foam Coat was then covered with flocking to give the texture of feathers. He was used for a "Polar Extremes" themed VBS. His mouth and wings both move and the controls for them are located on a rod that extends out of the bottom of the puppet.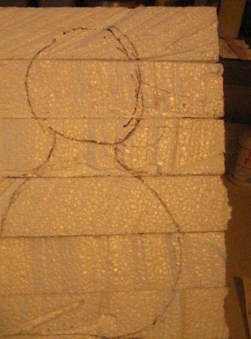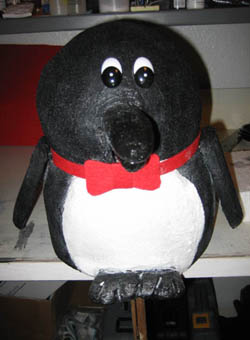 HWFF: You used our Foam Coat on the penguin puppet, do you have any tips for the readers on using that product or a challenge you encountered?
CS: Follow the directions, and be prepared to make adjustments as you mix. I live in a very dry climate. I had to experiment with water to powder rations to keep the Foam Coat from drying too quickly.