Spotlight on Dave Dankanyin
Tell us a little bit about yourself and what you do.
My name is Dave Dankanyin, I'm 32 years old and live in Metuchen New Jersey. By day, I am the Lead Machinist for Grimes Manufacturing Inc.  A small machine shop that specializes in high tolerance, high quality CNC machining. By night, I am the host of DEAD with Dave, a YouTube based show that talks about all things Halloween and Horror related.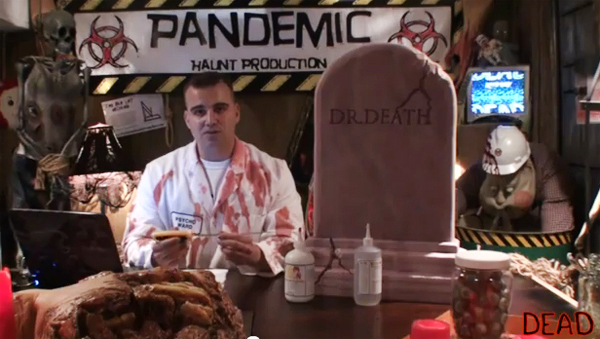 When did you start your home haunt endeavors?
I started home haunting way back when I was about 14-15 years old. My birthday is just 3 days before Halloween, so I always had Halloween party's to celebrate. Of course it started out with just some cob-webs and black lights. But within only a couple years I was full on into building my own props and animations. Now, over 17 years later, I have built a fully automated home haunt that everyone in my town enjoys and I will continue to make it bigger and better each and every year.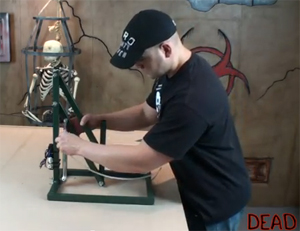 Your "Dead with Dave" show is great! It's entertaining and informative – what led you to create the show?
I have always wanted to do more on YouTube then to just show my Halloween videos or vlogs. There are so many talented people out there building amazing Halloween props , animations, and complete Home Haunts. But for one reason or another, some of them get lost in YouTube land. I wanted to bring attention to those people. So one day my fiancée Nichole and I were listening to the news and they were talking about how Regis Philbinwas leaving "Live with Regis and Kelly". Then it just clicked, We should do a show called "DEAD with Dave and Nichole". Well, after taping the first show, Nichole found out that she is extremely camera shy and doing the show wasn't going to work for her. So I decided to do it by myself and that's how DEAD with Dave was born.
What led you to start working with foam? What was your first project?
I stared working with foam when I realized how much it costs to buy a tombstone from Party City. I figured I could make one for only a couple bucks with Styrofoam. As you could imagine, my first tombstones really didn't look that great, but over time they got better.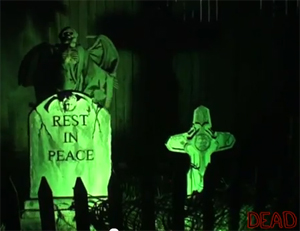 Do you find that using foam allows what you want to accomplish faster?
I don't know if I would say using foam is a lot faster than other materials, but I would say it's a lot easier than using other products. When doing a home haunt, foam is the only way to get realistic looking sets and props without the enormous price tag.
How have the Hot Wire Foam Factory tools affected your projects?
I used to carve foam with saws, razors, and spray paint, until I found HWFF tools about a year ago. I still use an array of tools but HWFF tools gave me the ability to control every detail and give a more realistic look that no other tools can give you. Plus a huge bonus is there is very little mess when using HWFF tools. I used to have tons of pink and blue "foam snow" all over everything. Now I don't have to spend time vacuuming my shop every time I want to make something.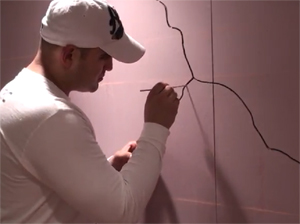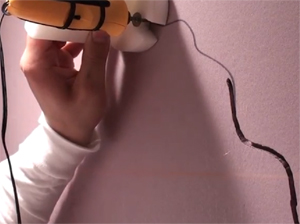 Which tool is your favorite and why?
My favorite tool is the Free Hand Router tool. You can bend any shape you want into the wire and carve it into your foam. It's the only way to make perfect grout lines in block walls.
Do you have a "crown jewel" or favorite project you've done?
My favorite project so far is my Dungeon Wall that is in the background in some of the segments of DEAD with Dave. It was a big project but came out great. Of course as with any project, you learn as you go, and there are some things I would have done different. Like instead of using textured paint as a finish, I would have use the HWFF Foam Coat. I would have had a much more realistic look with added protection from dings and dents.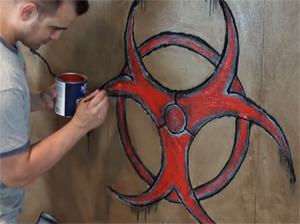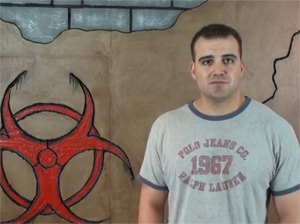 Do you have a tip you'd like to share with our subscribers?
The best tip I could give is to take your time and try new ways when doing any foam project. That applies from cutting and shaping your foam all the way to applying  your finish coat. Some of the greatest home haunters are the ones that keep it new and fresh.
Do you offer classes or workshops?
I have a couple tutorials on my web site www.PandemicHauntProduction.com and on YouTube www.youtube.com/PandemicCemetery that go over working with foam.
Where do you see the haunt industry headed in the next few years?
I believe the Haunt Industry will continue to grow. Halloween, Haunted Attractions and Home Haunts grow in popularity with each and every year. As long as the average person, (meaning not Halloween Fanatics), keep wanting to see these types of Haunt related things, the industry will thrive. To all the haunters out there, make sure to always promote Halloween and Haunt related things in a fun, and positive manor. The days of Halloween being a "celebration of death" has to be put behind us.
Do you have a word or words of encouragement for an up-and-coming home haunter?
For all the new Halloween Haunters out there, the greatest piece of advice I could give you is, Don't do what everyone else is doing. Make a haunt that is yours, with your own thoughts and ideas. Show who you are and what Halloween means to you. The greatest thing about doing a home haunt is that there are no rights or wrongs, there is only your interpretation on what's scary Oh and make sure to take lots of video and pictures of your haunt and send them to the DEAD with Dave show. If you have something cool and unique, I will make sure all my viewers see the new haunters in town.