Donnell Pasion is the owner of Passiflora Mosaics in Grover Beach, California. Passiflora Mosaics currently specialize in custom private commissions and are considering small-scale public art opportunities as well. They also offer mosaic workshops.
Hot Wire Foam Factory: Tell us a little bit about yourself and what you do.
Donnell Pasion: Both my husband Fred and I are native to the central coast, being raised in Arroyo Grande, and for most of our 37 years of marriage we have lived in Grover Beach. My main focus in life revolves around helping people in the community lead happier lives and giving them hope for the future through Bible education. Our mosaic art business, Passiflora Mosaics, is influenced by my faith.
HWFF: When and where did you start the pursuit of art?
DP: We have both always loved art but after high school it was not a priority. Eleven years ago I was determined to make a 42" pique assiette mosaic dining table. I enlisted the help of my husband and did my homework. It was a bit ambitious for a first project but we still use it and love it. An interior designer saw it and hired us to mosaic her fireplace surround. (Our first commission!) After that, I was hooked. I quit my part-time job as a mail carrier, we cut back on expenses, and decided to pursue a mosaic business.
HWFF: What led you to start working with foam?
DP: Since our first mosaic project was in 3-D, it was inevitable that we would want to learn to create lightweight weatherproof sculptures for outdoor use. After Fred took a concrete class from Sherri-Warner Hunter, I was a student in his first Styrofoam sculpture workshop. It challenged me, but again, I was hooked.
HWFF: How have the Hot Wire Foam Factory tools affected your artwork?
DP: We love them! It has made the process easier, neater, and more affordable.
HWFF: Which tool is your favorite and why?
DP: For large sculptures I like the Bow Cutter and Industrial Hot Knife. The Sculpting Tool is my favorite for small projects. They heat up fast and cut quickly. My husband made a table cutter using the Bow Cutter. It works great for initial cuts on the sculpture.
HWFF: Do you have a "crown jewel" or favorite piece of artwork you've done?
DP: My current piece is always my favorite until the next piece is finished! We have had the privilege of creating a Styrofoam, fiber mesh and concrete mosaic sculpture and two mosaic art benches for the Cottage Hospital in Santa Barbara, California. My new favorite piece is the sculpture Sea Whimsy and the quail bench in the Coastal Life series.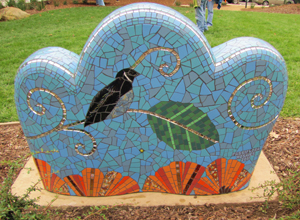 HWFF: Do you offer classes or workshops?
DP: Yes. Styrofoam/concrete sculpture as well as a variety of mosaic techniques. You can see current offerings at our website here. Nine years ago when we first participated in the Open Studio Art Tour in San Luis Obispo County, people asked if we taught classes. I told my friend "a person teaches classes when they get old!" The more people asked, I started taking down names and the list grew. Within a few years…well, I got old! We've been teaching workshops for 7 years! Our favorite workshops are the retreats at Camp Ocean Pines in Cambria, California. It's located up in the pines with an awesome ocean view where they feed and house you and you can mosaic like crazy for 4 days!
HWFF: Do you have a word or words of encouragement for an up-and-coming artist?
DP: Be patient and don't give up. Keep learning. Love what you do. It will show in your work and your life!