Spotlight On: John Herasymiuk
HWFF/Laura Neeley
Who the heck is John Herasymiuk? Where did that last name come from?
My last name is Ukrainian, but I was born in Orange, Texas.
We moved to New Orleans when I was 6 and I lived there until I was 33.
I currently live about 50 miles north of New Orleans. I needed more space to do what I do. My studio is bigger than my house. I do a lot of work in the wee hours, and there are no neighbors right on top of us out here.
My wife Nikole, and our children like living in the woods.
What art do you create in the studio?
I work in many different mediums, all sculptural, along with some furniture building and restoration of art and antiques to supplement my income. I've been doing a lot of work in foam in the last year and a half.
Almost all of my work is commissioned. I'm given a theme, and cut loose.
What made you start exploring foam applications?
I was asked about a large rooftop sculpture, for an individual, and there was a weight requirement, so I started doing research on materials that would fit the requirement, and EPS fit the bill perfectly.
Laura Neeley
She is amazing.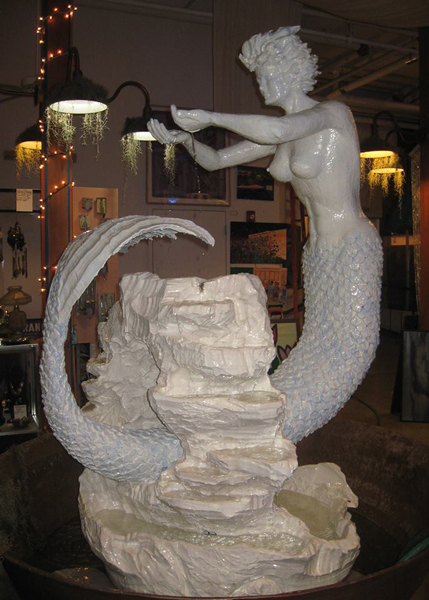 John Herasymiuk
"Lasiren". The New Orleans Healing Center sculpture was originally going to be done in porcelain, but the issue of being in a public space and possible breakage came up, again the EPS foam was a good solution.
What was your inspiration for that?
John Herasymiuk
This one was spontaneous in every sense—no sketch—and the only layout on the block was the centering of the base, because it was being put into a bowl-like basin.
She's about 90″ x 49″ x 39″. She's made with 1.5 lb foam, and about 1/8″-3/16″ thick polyurea coating.
Laura Neeley
Laura Neeley
Tell me just a bit about the Bird Totems.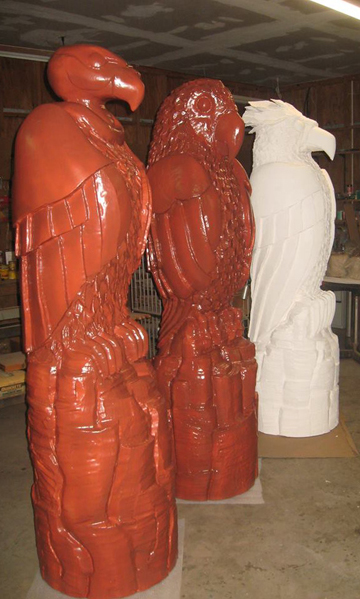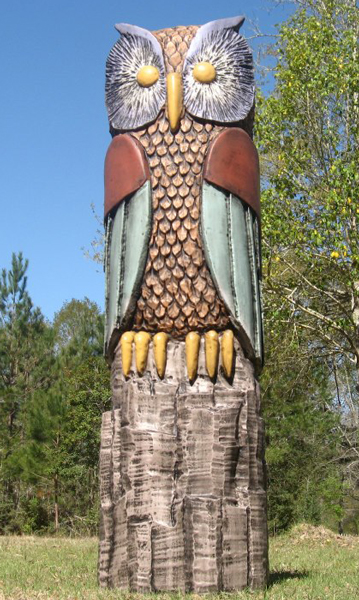 The Bird Totems have been an adventure. The patron who asked for them wanted birds, and had been to South America and seen the work of another artist that he liked very much. He already had two other pieces that I had done. He wanted the verticality, size and sensuality of the birds to be evident. I sketched out a few and he gave the go ahead. It was the first time that I had to deal with structural engineers, wind load studies, and all of that.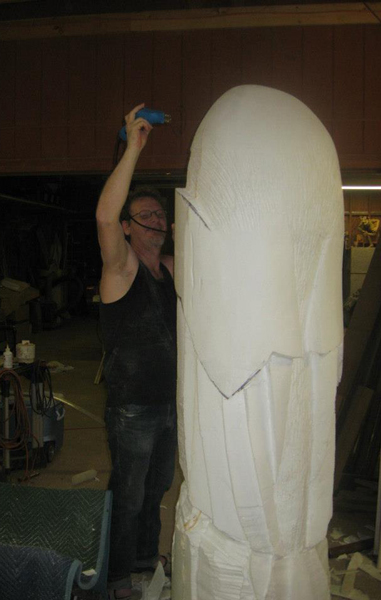 There was a weight restriction because they were going onto a rooftop. They had to weigh less than 60 pounds each. These are 84″ x 24′ x 24″, so 1 lb density foam and a steel armature that also serves as an attachment to the roof was the answer. They weighed in at an average of 48 pounds.
If you were going to give a young artist a golden nugget of advice what would it be?
I'd tell the young artist, don't be afraid of making mistakes, and to try new mediums and ways to express yourself. Learn to let go of your work once you finish a piece—it belongs not to you, but to the world.