Spotlight On: Marc Fields
Marc Fields, owner of The Complete Sculptor in New York City, is NYC personified. Fun, knowledgeable and to the point, he brings a perfect mix of schmoozing and business that make him a piece of work in his own right. We have had the honor of serving his store for the last eight years and the privilege of being a friend just as long.
Hot Wire Foam Factory: Hi Marc! So I guess we need to know first – who is Marc Fields and how did you get started with your store?
Marc Fields : For years, my mother, who is a sculptor, had been complaining that she had no place to get good quality stone, no place that offered a complete line of tools and supplies, no place that understood the needs of sculptors. Because I wanted to make my mother happy, I have created that place — The Complete Sculptor.
HWFF: Can you tell us more about The Complete Sculptor?
MF: Having grown up in close contact with many artists, I have come to understand how difficult and demanding the creative process can be. I also know how frustrating it is to have that process needlessly complicated by a lack of access to the proper tools or materials, and by having to spend endless amounts of time trying to arrange all of the details that go into a finished sculpture. That is why I have created The Complete Sculptor — to supply you with as complete a line of services as possible and to assist you in the creating of your sculpture.

HWFF: How do you help in the creation of customers' projects?
MF: TCS not only furnishes artists with the highest quality sculpture media (stone, clay, wax, etc…) and the highest quality tools, but we also offer a complete line of support services. For stone sculptors, we offer finishing and polishing; for clay sculptors, firing; for bronze casters, foundry services through affiliated foundries. Once your sculpture is completed, we will mount it to your specifications, build you a pedestal or base (either custom or stock), photograph your piece if you desire, and finally ship it anywhere in the world. And, because my mother insists, all of our supplies and services are tested and approved by our Sculptor Advisory Board. For the same reason, our customer service department is manned by people who are not only knowledgeable about our products and services, but who also have personal experience as sculptors.
HWFF: Do you offer classes?
MF: As a matter of fact we offer classes in just about every medium.
HWFF: Why do you offer classes?
MF: We feel that the educational side of the business is really important, as it enhances our customers' ability to succeed. The more skills someone has, the greater the likelihood of their success.
HWFF: What kind of classes do you offer?
MF: We offer wood carving, stone carving, multimedia workshops, clay work, wax work and of course foam sculpting classes. We even have free product demos on Saturdays called "Saturday Subjects!"
HWFF: Do you find that offering classes builds a loyalty with your customers? Does it encourage a stronger customer-store relationship?
MF: I think every service you provide if done with integrity and quality builds confidence and loyalty with your customers.
HWFF: What other things do you feel set you apart from other stores?
MF: In today's economy, customers are looking for that extra something. That can be a product, a special service or simply a kind attitude (maybe even a smile). The classes are just one of our offerings. Having quality product lines is something that makes it easier to do business. For example, your pro knife is one of the best products we have found.
HWFF: I totally agree! So back to the foam cutting of course, how long have you been carrying foam cutting products and foam?
MF: We have had foam and cutting products for about 10 years, but really expanded our tool selection and interest with the addition of your line.
HWFF: Why do you think that foam cutting is becoming so popular with artists?
MF: The ease certainly contributes to its popularity, but more than that it is probably the speed.
HWFF: Can you expand on that?
MF: People can create larger, more detailed work in less time. Between the easy access to the foam and cutting tools and the coating materials, the industry has exploded.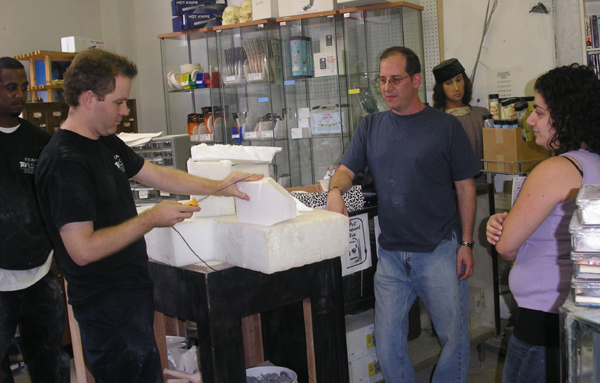 HWFF: Who do you find is using the tools?
MF: I have seen them in the professional as well as the craft markets. We sell the smaller ones to many clientele, but the professional users tend towards the more powerful tools.
HWFF: Professional what? Are there professional foam artists?
MF: Professional customers…that includes prop makers, set designers, prototype makers, and sign makers, to name a few, but even the professional sculptors making fine art have broken the barrier into foam.
HWFF: Wow, that is fantastic! Do you think that foam will be as popular as the other mediums?
MF: I think there are critics for every medium. The old school guys will always balk at the idea of something new, not classical enough, but the reality is that these tools and processes are an asset to be used when required – just like all the rest. That is sort of the philosophy of our byline … "You supply the talent… We supply the rest."
HWFF: Well your customers definitely have an asset in your store. Thank you for your continued service to such a terrific industry!
MF: It is my pleasure, truly.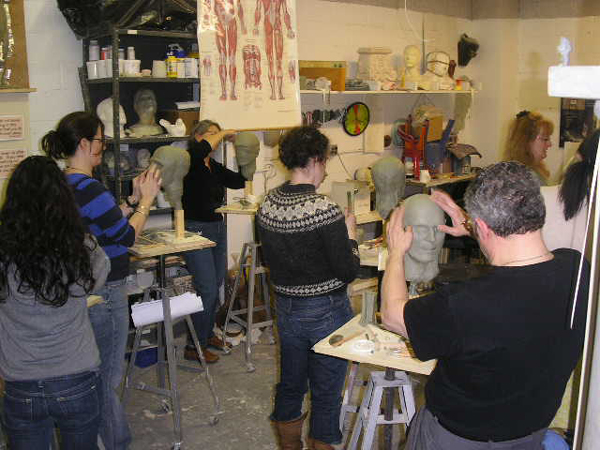 Suggested items for carving large foam sculptures: